Dynmap
What is Dynmap
Dynmap is a Google Maps-like webpage that allows you to see the discovered world! You can see other players, biomes, and structures in a flatmap or in isometric view.
How To Access
To access Dynmap, go to http://map.phoenixnetwork.ca and you will see the map. To get access to more advanced features, such as web-to-server chat, you will need to create a login.
Registering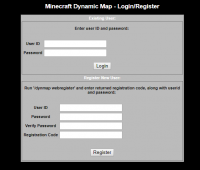 To register, you must first login to the server and type /dynmap webregister and it will give you a 8 digit code formatted like this: XXXX-XXXX. Remember this code as you will need it for the registration.
Next, visit the login/register page. Input your userID (Minecraft username), set a password (password can be whatever you want. Preferably not a password to anything else) and input your registration code. That's it. You are now registered.
Login
To login, just put in your UserID and password that you made when registering.
I Forgot My Password!
Repeat the steps for registering to the Dynmap to reset your password.